Why a running track?
Some people may ask themselves why we venture on to building a 400m running track, especially when it involves enormous costs. The reasons for the project can be easily explained:
There is no comparable running track in the whole province of Naivasha.
The running track is built on the property of the Primary School. Through organising of running events the school will be able to gain additional revenues.
The school will gain a boost in its trans-regional significance and therefore contribute to improvements in the region's infrastructure.
The Kenyan runners' carriers begin with participations in Cross- and Course run competitions. The running track will provide an important stimulus and additionally motivate the young in the region.
For the professional training of our "run2gether" athletes and their preparation for important competitions in Europe, the running track is indispensable. At present we have to fall back on faraway alternative tracks.
The football field, that will be built simultaneously, will be at the local teams' disposal.

All this prompted us to start building the run2gether – Kiambogo Primary School – Stadium in November 2012.
The construction phase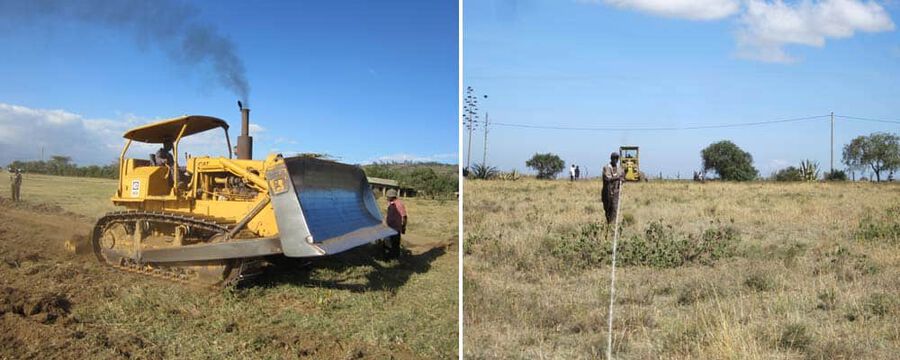 The construction phase was raddled by the constructor's constant upward adjustments of calculations, delays due to problems with the construction machinery, interruptions because of rain periods and other ongoing challenges. The main problem however, was the leveling of the terrain that was inclined by 5m on a width of 100m. It took a lot of patience, endurance, new sponsors and donors to complete the majority of the construction. Finally the stadium was opened on December 21st 2014.







The future
We hope that our run2gether Stadium will provide an important stimulus to the running sport in the region of Kiambogo, similarly to the legendary Kamariny Stadium in Iten. In future over 1500 schoolchildren of the Kiambogo Primary and Secondary School not only will be able to watch our athletes during their training and gain motivation, but also have the possibility to use the premises during their PE classes themselves. However besides these trainings, the organisation of events is another important focal point for us. Since the running track (obstacle course included) has been built according to international standards, we plan to hold both, national running meetings for the Kenyan running club as well as school competitions on local, regional and national levels.
In addition to the activities planed on the running track, we also plan to use the football field intensively. As it will be the only standardised football field in the region, it will provide many opportunities and ideas of its usability.
Different to other projects, the running track is owned by the Primary School and is therefore open to the public. 50% of the revenues from events will go to the Primary School and the other 50% to the run2gether team.