Peter Chege WANGARI – von Beruf Profiläufer und Bauer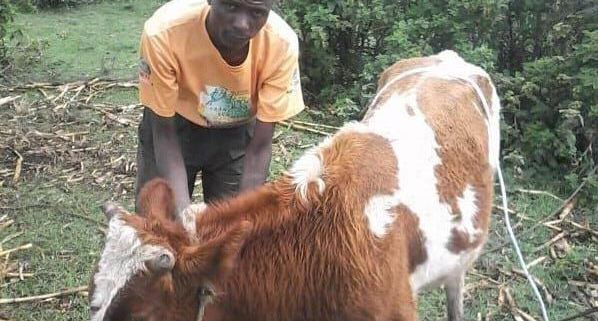 Heute wollen wir euch wieder einen unserer kenianischen Athleten, nämlich Peter Chege WANGARI, vorstellen. Viele von euch kennen ihn bereits persönlich von seinen Aufenthalten bei unseren Sommerlaufwochen in Österreich.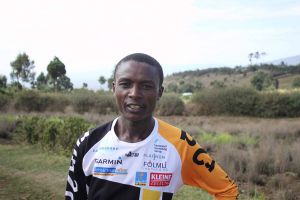 Während wir ihn in Österreich als ruhigen und etwas introvertierten, aber dafür umso liebenswerteren Menschen kennengelernt haben, kann er zu Hause so richtig anpacken!
Peter CHEGE: "Each day is a training and a working day, after training I work at a family land, whih I have bought two and one bull with money I got from running" Wenn er nicht gerade gemeinsam mit anderen Run2gether Athleten anstrengende Marathontainings absolviert, kümmert er sich um seine kleine Landwirtschaft und um seine beiden Kühe. Diese sind sein ganzer Stolz, die sich Peter von seinen Preigeldern abgespart hat.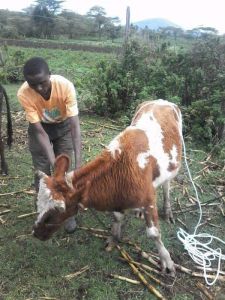 Peter CHEGE: "I get 5 litres of milk from the two cows, the family use 1 litre and sell 4 litre at KSH 30 and get KSH 120. This help my family for the upkeep, in future I want to start cows farm".
Die beiden Kühe geben also täglich 5 Liter Milch , wobei Peter davon 1 Liter für seine Familie verwendet und 4 Lter um umgerechnet 1,20 EUR verkauft. In Zukunft will Peter die Viehzucht noch ausbauen. Für dieses Ziel trainiert er besonders hart, um bei seinen Marathonstarts in Europa noch erfolgreicher zu werden.
"This is what I do, when I am not running, planting grass for cows"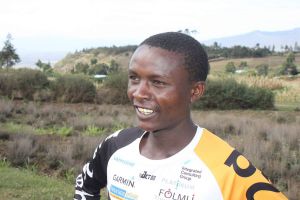 Peter ist außerdem für uns Vorort in Kiambogo ein ganz besonders wichtiger Ansprechpartner für unser Patenprojekt Run2gether Children.
Da er direkt aus Kiambogo stammt und ausgebildeter Lehrer ist, kommen uns seine ausgezeichneten Kontakte zum Direktor und den Lehrern der Primary School in Kiambogo sehr zu Gute. Er kennt auch die meisten Familien in Kiambogo persönlich und unterstützt uns daher bei der Auswahl der neuen Patenkinder aus den bedürftigsten Familien.
https://www.run2gether.com/wp-content/uploads/2016/02/12243729_986780521378399_275049292_n-e1454537480725.jpg
589
598
Thomas Kratky
https://www.run2gether.com/wp-content/uploads/2013/12/Titel-Logo-HP-neu1.gif
Thomas Kratky
2016-02-03 22:43:27
2016-02-03 23:11:45
Peter Chege WANGARI – von Beruf Profiläufer und Bauer